About ApacheCon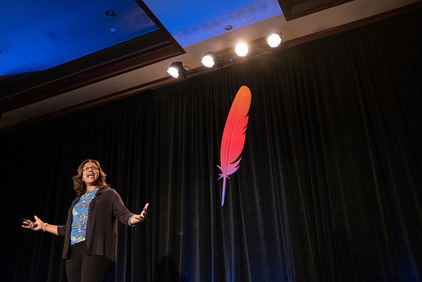 ApacheCon is the place to come to learn what Apache projects are doing, as well as a place for projects to come to build stronger project communities, as well as forge the bonds between projects.
ApacheCon started in 1998, and we've held over 30 events in North America, Europe, and Asia. We bring together 350+ projects across many technology spaces, and developers from more than 100 countries who collaborate on these projects.
Companies who sponsor ApacheCon gain visibility with the developers who make these projects happen, as well as having a chance to showcase their technologies to our user community. Sponsors of past events include Apple, Google, Microsoft, Red Hat, Canonical, HP, IBM, and many, many others.
ApacheCon attendees contribute their own information about our events on the ApacheCon wiki.
Interested in history? We have a complete archive of past conference pages! We've also collected many (but not all) slides, videos, or audio recordings from past ApacheCons.
---
About This Website
While ApacheCon events are usually produced by a third-party producer in terms of venue, hotels, schedules, tickets, and the like, the content for this website is provided by volunteers - usually, the same developers building Apache projects. So our apologies if we've missed something! You can contact us at apachecon-discuss@apache.org if you spot an error.
The source code for this website is stored as flat HTML at: https://svn.apache.org/repos/infra/apachecon/www.apachecon.com/
NOTE: checkins are automatically pushed to the production website, so be sure to check your work!
Planning ApacheCon
ApacheCon is planned by a committee of people, led by the V.P. Conferences. Planning is coordinated on the private mailing list planners@apachecon.com, and on the public mailing lists dev@community.apache.org, and apachecon-discuss@apache.org, depending on the topic.
Detailed information about planning ApacheCon may be found on the Events Website.